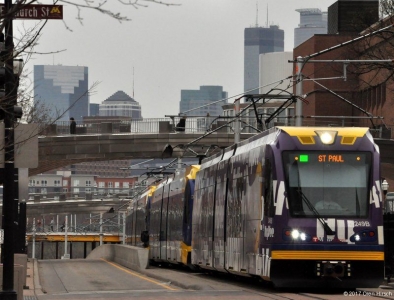 When I went to visit Minneapolis and Saint Paul for the first time in 2014, I planned my visit around my favorite baseball team's schedule as opposed to major events in the area's public transit network. Had I planned for the latter rather than the former, I would have not visited a mere month and a half before Metro Transit's Green Line, a light rail line that connects Minneapolis and Saint Paul, opened. This past April, I was back in the Twin Cities for another visit, and needless to say, I made a point of riding the Green Line from end to end. I also got photographs, which you can now find here on Oren's Transit Page.
This update is almost entirely contained within the Minneapolis-Saint Paul section, with updates to the Metro Transit Light Rail, Metro Transit Buses, Plymouth Metrolink, Minnesota Valley Transit Authority, and SouthWest Transit galleries (for those of you keeping track, that's every existing page within that section). There are also some new photos of Union Depot on the Amtrak Stations page. Union Depot was restored and Amtrak service returned to this grand train station in downtown Saint Paul in 2014, so while the station was open during my last visit, it is now a multimodal transportation hub and certainly worth a visit if you ever find yourself in the Twin Cities.
As always, time permitting, I look forward to highlighting some of my favorite photos from this update in future Travelogue posts.