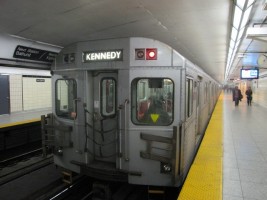 I've had the opportunity to visit some areas of transit systems that are typically off limits to the public and have been able to take photographs that you can find on this website. There are also times that I have had access to non-public parts of a transit system where photography is forbidden or I am asked not to share my photos online, and I abide by those requests out of respect for those who make them. In 2007, I had the opportunity to visit the TTC Control Centre, the location from which the Toronto Transit Commission keeps the largest transit system in Canada and the third largest transit system in North America running smoothly. On my visit, photography was not permitted. The National Post obtained access and permission to photograph and write about what goes on in the control centre, also referred to as the TTC's war room. This is a scene that plays out behind the scenes of every transit agency as it attempts to keep trains and their passengers moving while constantly handling unexpected circumstances such as malfunctioning doors and emergency alarms. And while you may not believe it, it might be a "net positive" to offload your train in the midst of a transit delay in order to keep everyone else moving.
Curious to have a glimpse behind the scenes at the TTC's control centre? Click here to read the National Post's article.
Oren's Reading List is an occasional feature on The Travelogue in which I share articles that I've read that might also be of interest to the readers of this website.