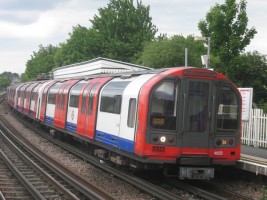 Have you ever thought to yourself while riding a train that even though the subway map seems to suggest the stations are evenly spaced, they aren't actually so in reality?  You're right to notice this.  Subway maps have been drawn without using a scale for a long time.  The first example of such a map is Harry Beck's London Underground Map form 1931.  Many of the principles that Beck used in designing this map are still not only used in London but in many other cities around the world.  However, people sometimes draw scale versions of various maps to show the differences between the official map and what a scaled map would look like.
Officially, Transport for London (TfL) has not put out a geographically accurate map since Harry Beck's diagram became the official one in 1933.  However, following a freedom of information request in 2014. TfL released such a map for the first time in many years.  Read about the FOI process and see the map for yourself in this story from The Independent.
In upcoming posts, I plan to share some old maps that I recently inherited and added to my collection, the first of which will feature maps of the Underground.  Stay tuned…
Oren's Reading List is an occasional feature on The Travelogue in which I share articles that I've read that might also be of interest to the readers of this website.