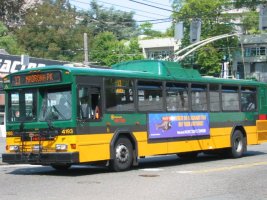 I've been to Seattle twice, although it has been over 10 years since my last trip. Lots has changed there in the intervening interval, but one thing that stood out to me on my previous trips is the ubiquitous presence of trolleybuses in the King County Metro fleet. This dates back to a decision to retain some electric powered transit lines, albeit with rubber tires as opposed to steel rails, as the Emerald City's streetcars were decommissioned. And in recent years, Seattle in conjunction with KCM are implementing plans to develop the trolleybus network even further, as they have proven themselves to be a low-cost zero-emission component to the city's transportation network over decades of service.
Can you name the five U.S. cities where trolleybuses operate? (You already know one of them!)
To read more about Seattle's trolleybus network, click here.