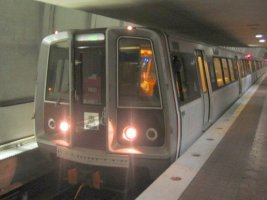 The
following tweet
from a
WTOP Radio
reporter was brought to my attention yesterday afternoon:
@alex_block Wiedefeld said today #WMATA is keeping car number 1000 at a minimum. Didn't seem to have plans to keep any 4ks

— Max Smith (@amaxsmith) February 15, 2017
You may recall that almost a year ago, I asked who wants to preserve a piece of DC transit history when WMATA began to retire its 40+ year old 1000 Series railcars. Some suggestions came out of the post, but I was unable to investigate any of those options myself. In light of this good news, I hope that WTOP and other outlets are able to find out if it is in fact car 1000 (pictured above) that will be preserved, if 1001 (1000's mate and the first car to actually be delivered to WMATA) will be preserved as well, and if they will remain in operating condition for special events, the way that New York City runs its vintage fleet at various times each year. Of course, if I hear any answers to these questions myself, I'll be sure to share that news here.
What do you think WMATA should do with the 1000 Series cars that it preserves?