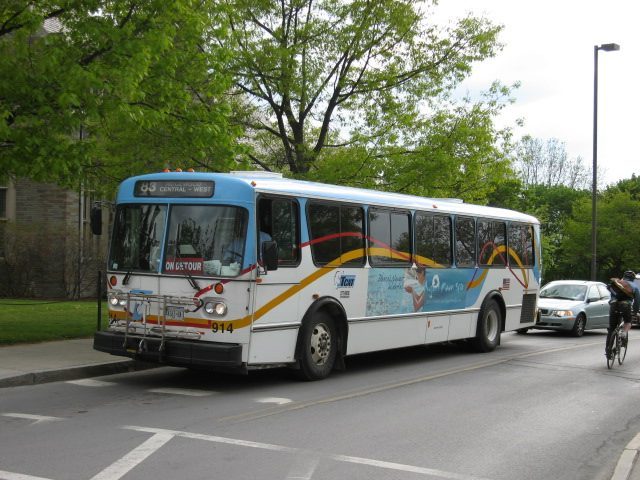 Orion I 914
Location: Campus Road at Central Avenue, Ithaca, NY
Operator of Vehicle:  Tompkins Consolidated Area Transit (TCAT)
Date of Photo: May 16, 2006

The lone Orion I remaining in TCAT's fleet might be the Energizer bunny of buses.  This bus was manufactured in 1991 and as of early 2016 at the age of 25, it is still in service.  In a college town such as Ithaca, it is likely that many of 914's current passengers are younger than the bus itself.  To my knowledge, there is no concrete plan or timeline for when TCAT might retire this bus, which is likely the last Orion I to be in operation anywhere in the United States at this point.
TCAT has operated buses far past their expected 12 year lifespans before.  Orion I 565, which was delivered to the Utica Transit Authority in 1985, remained in service for a mere 21 years.  TCAT's NovaBUS LFSs and New Flyer D40LFs are 15 and 14 years old, respectively, and their replacements have not been procured yet.  However, it is remarkable that nearly 5 years after the former CU Transit "hammerhead" Orion Is and the other 3 1991 former TomTran Orion Is were retired, that 914 is still rolling.
If you want to get your last ride on an Orion I in, you had better hurry.  With a bus this old, all it takes is one maintenance issue deemed to big to be worth solving to bring about retirement.
To see more photos of TCAT Orion I 914, as well as the other Orion I buses that used to be a part of the TCAT fleet, please click here.
Did you miss the rail photo of the month for February?  If so, you can check it out here.