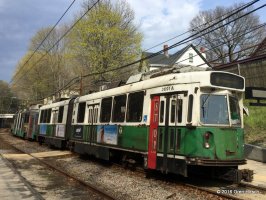 If this website had a tagline, it would have to address the fact that I have a never ending photo queue and a whole host of things I'd love to share here on the Travelogue if I had unlimited time to do so. The reality is that while running this website is a labor of love, it is a hobby, and real life has to take priority at times. Among the many reasons I've been posting less is that the Oren's Transit Page has expanded to include "Mrs. Oren's Transit Page." While she is quite supportive of my hobby and even enjoys coming with me on my railfan excursions on occasion, I'd like to think that she appreciates the fact that I assisted with wedding planning and then showed up at the (transit accessible) wedding itself. However, over the course of wedding planning, I've still had plenty of chances to snap photos of transit and in the past few days, finally had a chance to organize and caption many of those photos. In fact, over 75 photos were added to various sections of the website in this update.
This update includes photos of several things that had not, to date, appeared on my website before now.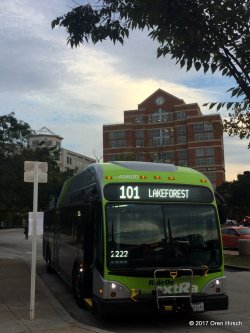 It didn't get its own post aside from the October Photo of the Month, and it took me over 12 months from the time it opened until I actually rode it, but the are now photos of and a page dedicated to the
DC Streetcar
. If that isn't new enough for you, my first photos of the
WMATA New Flyer XN40s
that entered service in 2016 are now online as well. I rode these vehicles for the first time back in July. If you want to feast your eyes on an even more recent addition to the DC area transit scene, Ride On Extra started one month ago and there are new photos of the BRT styled buses dedicated to this service on the
Ride On 40 Foot Gillig Advantage Buses
page.
Other DC area pages also had photos added to them; these are the WMATA Breda Rehab, WMATA Kawasaki 7000 Series, WMATA Metrorail Stations, WMATA 2008 NABI 60-BRT/CNG, WMATA New Flyer XDE60 Buses, WMATA XDE40 Buses, WMATA New Flyer DE40LFA, WMATA New Flyer DE60LFA, WMATA New Flyer D40LFR, WMATA New Flyer DE40LF, WMATA New Flyer C40LF & C40LFR, WMATA Orion VII/CNG, DC Circulator, Ride On 40 Foot Orion V, Ride On 35 Foot Orion V, Ride On 40 Foot Gillig Advantage/HEV, and MARC Commuter Rail pages.
The photo queue also had some photos from short trips to other cities along the US East Coast, and I was finally able to get to those, too. You will find new photos in the New Jersey Transit Rail Operations and New Jersey Transit Bus Operations pages in the New Jersey section, MBTA Green Line and MBTA Buses pages in the Boston section, and on the MARTA page in the Atlanta section.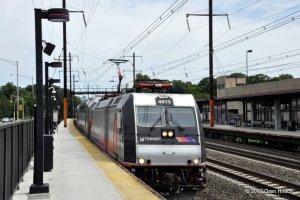 Naturally, I took Amtrak to travel to some of these places, so there are also new photos on the
Amtrak ACS-64 Locomotives
,
Amtrak Genesis Locomotive
s,
Acela Express
, and
Amtrak Stations
pages.
As always, I make my perpetual promise to feature some of my favorite photos and the stories behind them in "The Viewfinder" in the near future. I hope to be able to follow through on that promise soon. In the meantime, enjoy the new additions and I hope to share other photos from my queue of uncaptioned photos in the near future.