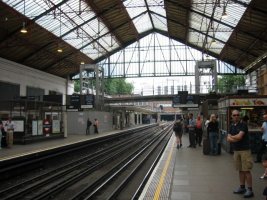 If you've been to London, you may have noticed that some of the Tube stations have some, shall we call them, interesting names. Examples include Cockfosters, East India, Marylebone, Oval, and Tooting Bec. I'm sure someone has already compiled the origin of all these station names and posted them online somewhere (though I can say with some confidence that even I can figure out how a station like "Baker Street" gets its name), but the BBC recently posted an article highlighting ten stations and how got their names. The ten stations are:
Covent Garden
Elephant & Castle
Cockfosters
Tooting Bec
Knightsbridge
Maida Vale
Aldgate
Piccadilly Circus
Queensway
Shepherd's Bush
You can read the article here.
What is your favorite Tube station (or Tube Line) name? Which station's name origin do you wish you knew more about? Share your responses in the comments below!