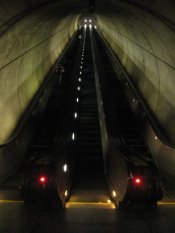 I imagine many of the people who come to my site have strong opinions about escalator etiquette on public transportation. In cities such as Washington or London, standing on the right side of the escalator and walking on the left is an ingrained habit. But is it the fastest way for everyone to get to the bottom or top of the escalator?
Last year, Transport for London conducted an experiment at its Holborn Station where commuters were asked to stand on both sides of the escalator. The result might surprise you. When the escalators were at their busiest, they were able to carry more people per hour when everyone stood and no one walked on the left side. This article from The Independent explains why that is the case. Take a read and then feel free to offer your thoughts on the study in the comments below. Is this the result you expected? Do you prefer to walk or stand?
Oren's Reading List is an occasional feature on The Travelogue in which I share articles that I've read that might also be of interest to the readers of this website.