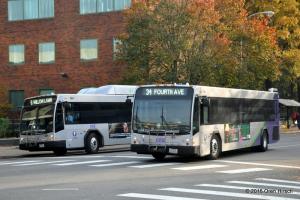 After a tease on the Oren's Transit Page Facebook page a few weeks ago, I have finally made it through my photo queue to add a slew of photos from all over the US to the website this morning. Highlighting this update is the newest section of the website from
Richmond, Virginia
. Richmond has a 175 unit bus fleet and is building a new bus rapid transit line and you can now see some of their current operations here on the website. Richmond is also home to the Triple Crossing, the only known spot in North America where three Class I railroads cross each other at the same spot, and there is a photo on the Norfolk Southern page from that location.
If you wanted to travel by train from Richmond to other places featured on Oren's Transit Page, Amtrak would be a great choice, and you can now see photos of the relatively recently restored Main Street Station in downtown Richmond on the Amtrak Stations page, as well as Amtrak's Genesis P42 Locomotives serving the station. New photos were also added to the Amtrak ACS-64 Locomotives and Acela Express pages.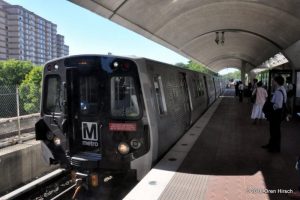 Further along the Northeast Corridor, a number of
Washington, DC
area galleries got updates, too. New photos of the
DC Circulator
, as well as WMATA's now retired
New Flyer C40LF buses
were added to the respective galleries. On the rail side of things in DC, there are new photos in the
Rohr (1000 Series)
,
Breda Rehab
, and
Kawasaki (7000 Series)
galleries.
Even further to the north, there are two new Massachusetts Bay Transit Authority bus photos in this update. If you travel very far to the east, a single photo of an Israel Railways Bombardier trainset that was not included in the most recent update from Israel is now on the site.
Despite my constantly telling myself there isn't all that much in the photo queue, getting through it all always seems to take longer than I expect. I have a number of interesting articles to profile on Oren's Reading List, and also plan to share more commentary on some of my photos through the Viewfinder, including some of my favorite photos from this update. In addition to adding new photos from a variety of sections, I also hope to have the New York section rebuilt sometime in the next 6 months. But while you're waiting on all the content to come, I do hope you enjoy the new content that was just added or revisiting the content that I've posted over the past 16+ years.