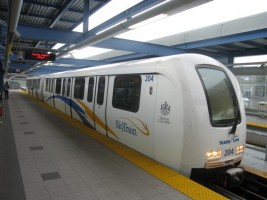 The Vancouver Sun reports that today, a man named Stephen Quinlan intends to ride the entire Vancouver SkyTrain system in about 3 hours, in order to set the Guinness World Record for achieving the feat. You can read about his preparations
here
. I made no effort to set a record while doing so, but I did ride the entire
Skytrain
in a single day on August 7, 2007, back when it only had two lines and fewer stations. It isn't the first system I rode in an entire day, either. The largest system I rode in a single day is the Washington, DC Metrorail (in 2002, when it only had 83 stations), but I have also explored the entire TTC Subway (2007), San Juan Tren Urbano (2016), Glasgow Underground (2005), Rome Metro (2008), Jerusalem Light Rail (on opening day in 2011) and Haifa Carmelit (2007) in a single day, and did the Tren Urbano, Jerusalem Light Rail, and Carmelit on a single fare. Needless to say, it is a much easier feat to achieve on a smaller system such as Haifa's (the smallest subway in the world) as opposed to a city such as London or New York, but that is to be expected.
Have you ever tried to ride an entire system in one day? Were you successful? Were you trying to set any records? Feel free to post your answers in the comments below!
Oren's Reading List is an occasional feature on The Travelogue in which I share articles that I've read that might also be of interest to the readers of this website.