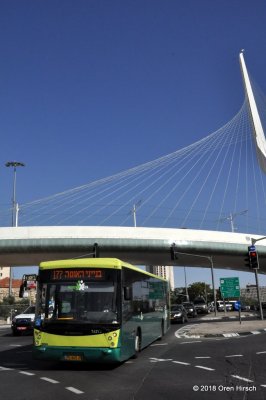 The summer travel season is well underway, and photos from my adventures in May and June are now available for your viewing pleasure here on Oren's Transit Page.
Most of the new content can be found in the Israel section, where you will find new photos of the Jerusalem Light Rail, Egged buses in Jerusalem (including the Solaris Urbino 18 unit currently on trial), Egged Ta'avura buses in Jerusalem, Afikim buses in Jerusalem, Kavim buses in Jerusalem, and Superbus buses in both Jerusalem and Tiberias. If you haven't been to Israel lately, with the entry of the Golden Dragon and Yutong bus models from China and Solaris buses from Poland in to the Israeli market, there is quite a bit of diversity in Israeli operators' fleets beyond the typical MAN and Mercedes-Benz buses that have dominated the scene for years. You can also find photos of the exterior of the new Jerusalem High Speed Railway station (the interior of the much delayed station will be open to the public this fall if you believe the latest rumors).
In addition, new photos of various WMATA equipment types have been added as well.
Here is the complete list of pages with new photos in this update: