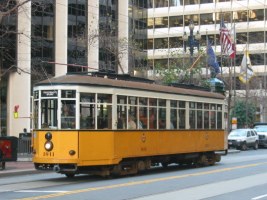 In yesterday's Washington Post Travel Section, there was an article about the F-Line in San Francisco, which operates historic streetcars on a route that serves as an integral part of the city's transportation network. The article features an interview with Rick Laubscher who organized the first vintage trolley festival in the early 1990s, leading to the opening of the F-Line on September 1, 1995.
To read the article, click here.
To see photos of the F-Line on this website, click here.
Oren's Reading List is an occasional feature on The Travelogue in which I share articles that I've read that might also be of interest to the readers of this website.